Things I've been doing lately.

I printed pictures of post-bath Arwen (what the heck was her foster name? Oh right, Arundel), Jacques, and Moop and mounted them to cradled Gessoboard. (I initially mounted them to canvas, but I prefer the Gessoboard because it has a cleaner edge.) Now they're hanging in the bathroom, and I could not love them more (and there's room on the wall for future post-bath kittens should such pictures happen.)
Warning: the next three pictures mention cats (and dogs) who have passed away. Feel free to skip 'em if seeing/reading about them will make you sad.

In the back stairwell, I made a memory wall wherein I mounted pictures to Gessoboard of all the cats we've lost, and George and Gracie (who are not cats, but deserve to be included.) Then I hung them in no particular order.

Top: Stefan & Maxi.
2nd: George & Corbie.
3rd: Spanky & Gracie.
4th: Joe Bob & Elwood.
5th: Dennis & Stinkerbelle.
Over to the right: Miz Poo.

Top: Kara & Frankie.
2nd row: Sugarbutt & Rupert.
3rd row: Tom Cullen & Mister Boogers.
4th row: Tubby & Spot.
5th row: Coltrane & Fancypants.
(Note: I have not yet updated Frankie and Kara's pages. I'll get around to it one of these days. I also have no (despite meaning to for yeeeeeears) split Jake and Elwood's pages so that they each have their own. Again, that's something I'll get to one day.)

On the landing in the back stairwell, our current permanent residents.
Top row: Khal, Alice & Newt.
Bottom: Dewey, Archie, Jake.

A few years ago, Helen (see her site here) drew this lovely picture of Dennis (which was included in her book 101 Cats, volume 2), and sent me the original. I'd been intending to frame it and hang it, but while I was mounting pictures to Gessoboard, why not? (I didn't actually do this with the original picture, I was afraid I'd mess it up – I scanned it in with my excellent scanner, and then printed it out and mounted that.)
~~~~~~~~~~~~~~~~~~~~~~~~~~~~~~~~~~~~~~~~~~~~~~~~~~
The kittens turned 6 weeks old yesterday, can you believe that? Here's what they look like now, and their weights are below.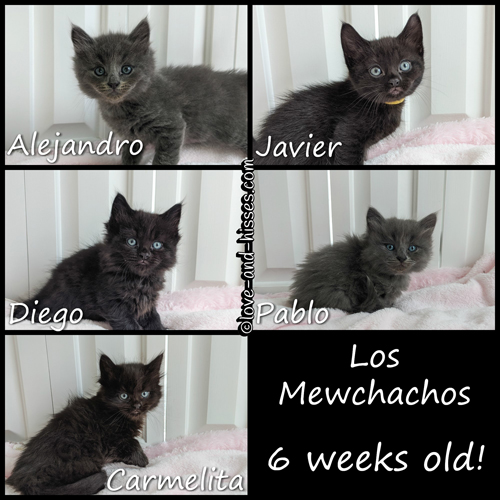 Alejandro now weighs 1 lb 11.8 ounces (5.1 ounces at birth.)
Pablo is 1 lb 2.2 oz (3.8 oz)
Javier is 1 lb 8.3 oz (4.7 oz)
Carmelita is 1 lb 6.8 oz (4.8 oz)
Diego is now 1 lb 11.6 oz (4.1 oz)
You can probably tell by their weights who has started eating canned food and kibble, and who hasn't, can't you? Alejandro, Javier and Diego all run over to the plate to join Isabella in eating when I bring the plate of food into the room. Carmelita will sometimes eat and sometimes not – she's not that interested – and Pablo straight up is not interested yet. I put canned food in his mouth a couple of times a day and so far he's making a face and spitting it back out. He appears to be lagging behind the rest of the litter by a few days, so I expect that in the next week he'll decide eating on his own is where it's at. I would still like to see him put on more weight, but he's gaining (even though it's such a small amount), he's playing, and he doesn't hesitate to jump on any of his siblings. I suspect he's just going to be a little guy.
~~~~~~~~~~~~~~~~~~~~~~~~~~~~~~~~~~~~~~~~~~~~~~~~~~

Carmelita, studiously NOT looking at the camera.

Diego and Javier have a snuggle.

Stuffed onto one level of the cat tree, 'cause why not?

Diego the cutie.

When they're lined up like this, with the gray boys on either end (Pablo to the left, Alejandro to the right, in this instance), it means they were nursing and Isabella decided nursing time was over.

Pouty little faces.

It's an Isabella pie.

"What doin', weird lady?"

Pablo in the ToastyCat bed. Because I put him there. At least he stayed long enough for a cute pic!
~~~~~~~~~~~~~~~~~~~~~~~~~~~~~~~~~~~~~~~~~~~~~~~~~~

Dewey, studiously not looking my way. But at least he allowed me to take his picture, and that's rare. Brat.
~~~~~~~~~~~~~~~~~~~~~~~~~~~~~~~~~~~~~~~~~~~~~~~~~~
Previously
2019: Mary did not approve of this behavior.
2018: Babysitting doesn't mean sitting on the babies, Torvill.
2017: No entry.
2016: Art Vandelay is killing me dead here.
2015: And then Peter mocked Heart.
2014: Then Mariette got all "But WHY does the mouse keep running around the track? Does it hate us?"
2013: Meet the Royals.
2012: No entry.
2011: Just occasionally, she needs a nap. With her fangs showing and her tongue sticking out a bit.
2010: "BRING DOWN THE HAND FOR THE BELLY RUB!"
2009: Beulah critiques my belly-rub technique.
2008: No entry.
2007: No entry.
2006: No entry.
2005: No entry.