The Forgotten Felines online auction is OVER (at least 'til the next one in May!), and it was QUITE the roller coaster Saturday afternoon, watching the last-minute bidding. It was a lot of fun, and now we're focused on making sure everyone gets their stuff. Today is packing day, and then we'll be meeting with local people in person later this week. If you won something and haven't had a chance to make payment and arrange delivery, get on over to the auction page, message the page, and let's get that ball rolling.
(Once the dust settles and we know exactly how much the auction brought in, I will definitely let y'all know the final number!)
THANK YOU to everyone who donated, everyone who bid, and everyone who made this experience so much fun. We appreciate you SO MUCH. And most especially THANK YOU to Teresa who took on the bulk of the work and captained this crazy ship to shore and didn't lose her cool along the way. She's awesome!
~~~~~~~~~~~~~~~~~~~~~~~~~~~~~~~~~~~~~~~~~~~~~~~~~~
BUT WAIT! If you missed out on the Forgotten Felines auction, I've got good news for you! Andrea is having an insta-auction to benefit Winnie's Wish! Go check it out HERE, find something that strikes your fancy, and get bidding!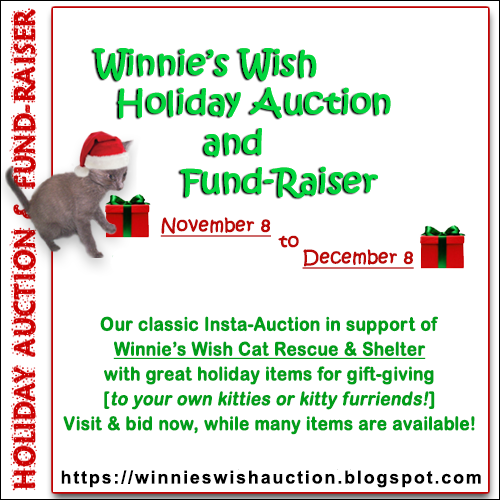 Just as a note, let me point out that the awesome crocheted cat beds are (1) awesome, (2) the cats love 'em, and (3) seem to be nearly indestructible. I have several of them, I've washed them a LOT (I wash all our cat beds a lot because you know how I am) and they still look like they are brand spankin' new. Also, the money goes to a GREAT cause. So check it out!
~~~~~~~~~~~~~~~~~~~~~~~~~~~~~~~~~~~~~~~~~~~~~~~~~~

"You not takin' my box of paper are you, lady?" Only if we desperately need it, sweet boy.

Oh, those EYES.

Luc from above.

Stopping for a moment to see if he can reach the ceiling fan. (He couldn't.)
So as you can probably tell by my failure to announce any adoptions at the top of this post, there were NO adoptions over the weekend. Henri, Josephine, Fleur and Gabrielle are still at PetSmart (and doing perfectly fine, for the record). Apparently it's been pretty quiet there lately, and I just wish that their people would hurry UP and come find them. When there are adoptions, I will definitely let y'all know.
~~~~~~~~~~~~~~~~~~~~~~~~~~~~~~~~~~~~~~~~~~~~~~~~~~

Archie has a grumpy. Which is SO unlike him!
~~~~~~~~~~~~~~~~~~~~~~~~~~~~~~~~~~~~~~~~~~~~~~~~~~
Previously
2018: It's amazing how much these guys can eat!
2017: No entry.
2016: "Huh. Where'd THAT come from?"
2015: Rickles wants HUGS.
2014: You KNOW there was a feather teaser up there!
2013: Silvio and Stefan. Twoo wuv.
2012: No entry.
2011: No entry.
2010: "I was restin' my eyes, lady."
2009: He might not be paying attention to me, but he still doesn't like it when I leave!
2008: If I could knit, I'd knit a duster-type coat with big pockets in it, so I could load a cat or kitten into each pocket and they could keep me warm all winter long!
2007: "I vant to be alone."
2006: No entry.
2005: I think Mister Boogers thinks he's Sugarbutt's Momma. He's always grooming him like crazy.