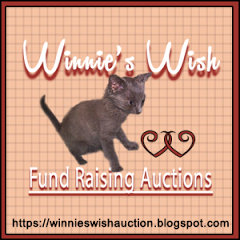 Andrea is having an Insta-Auction to benefit Winnie's Wish. It's very cool – go check it out, and bid like crazy. It's for a great cause!!
~~~~~~~~~~~~~~~~~~~~~~~~~~~~~~~~~~~~~~~~~~~~~~~~~~

Jake and Felix – Fred got out the feather teaser, and Jake knew exactly what was going on. Felix just wanted to know why Jake went all loony.

Alice is also a feather teaser fan – but she's not a kitten fan. If looks could kill, Felix would be GONE. The instant after I took this picture, she went all WHAP-WHAP-WHAP upside his head, and then retreated to the couch.

Webster finally realized something was going on, and joined in the fun. I have no idea why his tail was semi-poofed.

Webster went after the teaser, and then hung on the back of the couch, which earned him some slaps from Alice.

Then Felix began to fly. I love the look on Webster's face, he's all "How's he DOING that?!"

Felix heads for the ground, all "How'm I DOING this?!"

Felix, continuing to fly.

This would be the perfect picture if the camera had been aimed just a tiny bit higher.

Webster's turn to fly.

And he lands.

So much focus on those little faces!
~~~~~~~~~~~~~~~~~~~~~~~~~~~~~~~~~~~~~~~~~~~~~~~~~~

We keep our extra towels under the washstand, and it is impossible to keep the doors closed, because the cats have figured out how to open them. I love the defiant look on Newt's face. "What? Lady, if not meant for kitties, why it made of comfort?"
~~~~~~~~~~~~~~~~~~~~~~~~~~~~~~~~~~~~~~~~~~~~~~~~~~
Previously
2015: "Hallo innernets. Hugs?"
2014: No entry.
2013: "Will there be stinky slippers at Petsmart? I'm going to miss the stinky slippers."
2012: "BABY STOMPERS SHOW YOU WHO BOSS IS."
2011: It is, let me tell you, utter madness.
2010: "C'mere, Elweird, you have shmutz on your head."
2009: These guys were like "Hey! More room to explore!"
2008: No entry.
2007: Maxi does love her some Booger.
2006: No entry.
2005: "I haff come to suck yoor blooood."