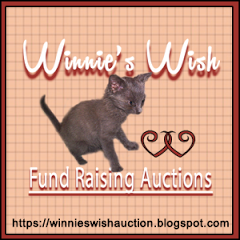 Have you been over to see what's up for auction at the Winnie's Wish Auction page? There's some cool stuff, and Andrea's adding new items all the time. Go check it out and bid – all proceeds go to Winnie's Wish Cat Rescue!
~~~~~~~~~~~~~~~~~~~~~~~~~~~~~~~~~~~~~~~~~~~~~~~~~~
In case you didn't see this when Fred posted it on Facebook – we now have a blanket with my favorite picture of Archie on it. I had a lot of Coke Rewards points, and Fred had recently mentioned that we should get a blanket with a picture of one of our cats on it (to go with the pillow with Mister Boogers' picture on it), and so I turned in my points for a free fleece blanket from Shutterfly.
The funny thing is that when I uploaded the picture, they said it wasn't big enough, and that it wouldn't be as clear as it should be. We dithered for a little while, and decided to go ahead anyway – and it looks perfectly fine and clear. Maybe they don't know what they're talking about – or we have elderly eyes. Whichever, we're very happy with it.
If you look to the left of the blanket, you'll see Archie curled up asleep. Left of him is the Mister Boogers pillow.
~~~~~~~~~~~~~~~~~~~~~~~~~~~~~~~~~~~~~~~~~~~~~~~~~~

Juniper has the MOST beautiful eyes, doesn't she?

So does Hemlock. Maybe one day he'll get around to putting eyeliner on the other eye.

Look at her, trying to hide the Choco-Nip toy so Hemlock doesn't realize she's playing with HIS toy.

"I know she's got my toy. I'm just biding my time, lady."

"Can't you take a hint, lady? I vant to be alone."

"Okay, maybe I take a nap with you."

"PUT down the camera, lady. There's nappin' to do!"
Privet and Hemlock are off for their spay and neuter this morning. Juniper will be an only child for the day; hopefully she doesn't get too bored. Maybe I'll put some socks on her feet and make her help me clean!
~~~~~~~~~~~~~~~~~~~~~~~~~~~~~~~~~~~~~~~~~~~~~~~~~~

Every time I think about raking up those leaves, Joe Bob rediscovers them and starts sleeping there. Not that I'm complaining – it's not like I'm dying to do yard work!
~~~~~~~~~~~~~~~~~~~~~~~~~~~~~~~~~~~~~~~~~~~~~~~~~~
Previously
2015: Gracie.
2014: No entry.
2013: Sweet rumpled little monkey girl.
2012: "POLLY, HE IN MY BASKET."
2011: "Wush up, guysh?"
2010: I guess that toy knows who the boss is now!
2009: No entry.
2008: No entry.
2007: No entry.
2006: No entry.
2005: No entry.