Sweet little Dorothy is still in the guest bedroom for the time being. She's being treated for parasites, poor girl, and despite the fact that she'd dearly like OUT of her room and Jake and Elwood and Rufus would dearly like IN her room (more because of the kitten food that's in there than out of their desire to see the kitten), we have to wait to introduce them 'til the medicatin' is done.
However, Rufus is a stealthy little man, and one day last week he apparently snuck into the room when I was leaving it, and I didn't realize it.
I went in about ten minutes later to find this.
The little hussy.
~ ~ ~ ~ ~ ~ ~ ~ ~ ~ ~ ~ ~ ~ ~ ~ ~ ~ ~ ~ ~ ~
Despite my insistence that they stay tiny little babies forever, the McMaos seem determined to grow up. They practically grow right before my eyes, and I DON'T LIKE IT.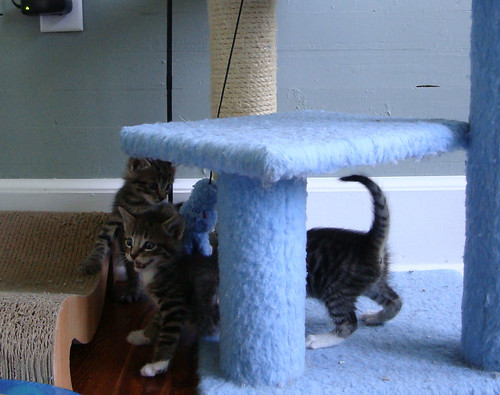 Cillian is particularly long. Hee. He's like a kitty dachshund!

"But… I WANNA grow up to be a big boy and kick the butts of all other cats!"

Ciara decided my foot belonged to HER, and spent a good five minutes rubbing her face on me.

Serious little Cillian.

An idea forms…

Stage 1 of implementation…

Total capitulation. Well played, little man.

I know it's rude to post a litter box picture, but the thousand yard stare makes me giggle every time.

Fergus Simon of the spotted belleh.
~ ~ ~ ~ ~ ~ ~ ~ ~ ~ ~ ~ ~ ~ ~ ~ ~ ~ ~ ~ ~ ~

Sugarbutt, recovering from his vigorous weekend of sleeping.
~~~~~~~~~~~~~~~~~~~~~~~~~~~~~~~~~~~~~~~~~~~~~~~~~~
Previously
2010: No entry.
2009: No entry.
2008: She kicked Sugarbutt's butt but good.
2007: No entry.
2006: No entry.
2005: No entry.