Yesterday, I went to a Challenger's House volunteer party, where I got to meet the awesome Eileen and Keith, who adopted Javert and Eponine (now Gus and Belle). (Also, they made this neat mini cat staircase, which I've linked to before.) I love meeting people who've adopted my former fosters!
I saw THE most beautiful Bengal cat there who (CORBIE DO NOT READ THIS) might be as beautiful as Corbie (CORBIE YOU DID NOT READ THAT. ALSO, YOU CANNOT READ. (Can you?)).
Also, oh… what was I going to tell you? I can't quite remember. It probably wasn't that important.
Oh, right. LOGIE AND NEWBERY WERE ADOPTED ON SATURDAY!!!!!!!!!! This leaves Razzie as the last Nom standing at Petsmart. They moved her to a cage at eye level so that hopefully she'll catch someone's eye and get herself a home. If she's still there next week, I'll bring her home for a break from the cage. But I'm keeping my fingers crossed – I think this is going to be her week!
Logie and Newbery didn't go to the same home – actually, someone came in who'd seen Logie on the Petfinder page, determined to adopt her, but after spending time with her decided they wanted someone more, um, rambunctious shall we say? And that's more Newbery's area of expertise, so off he went. And then one of the Challenger's House volunteers who cleans at Petsmart adopted Logie!
So keep your fingers crossed for Razzie. Seriously, I think she's going to be adopted this week. I really thought she'd be the first Nom to go, but I guess you really never can tell.
~ ~ ~ ~ ~ ~ ~ ~ ~ ~ ~ ~ ~ ~ ~ ~ ~ ~ ~ ~ ~ ~ ~ ~ ~ ~ ~ ~ ~ ~ ~ ~ ~ ~ ~ ~ ~ ~ ~ ~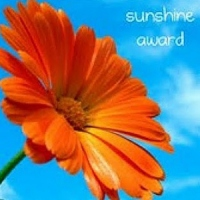 I got the Sunshine Award from the awesome Connie over at tails from the foster kittens because the Stompers pics have been making her smile.
(Stompies makes everyone smile!)
You have to answer 7 questions and then pass it along!
Question 1: Favorite Number?
17. I don't know why, that's just the number that always comes to mind for some reason.
Question 2: Favorite Nonalcoholic beverage.
I'm a total Diet Coke fiend. I wish I could quit you, Diet Coke. I WISH I COULD (but I don't want to!)
Question 3: Facebook or Twitter?
It depends on the info I want to share. If it's kitteh-related, I tend to post it on the Love & Hisses Facebook page. If I want to whine or complain whilst using many profanities, Twitter's my drug of choice.
Question 4: Your Passion
Kittehs! Also, reading. And gardening… but NOT cleaning.
Question 5: Favorite Pattern
Classic tabby (scroll down to see). Before I knew what it was called, I referred to as the "cinnamon roll" pattern.
Question 6: Favorite Day of the Week
I like Sundays 'cause they're usually long and lazy.
Question 7: Favorite Flower
Daffodils (I also love Sunflowers!)
I am passing this one along to Kelly at Whiskers in the Window because I love her permanent residents and her fosters, and I also love the Metro Monday pictures!
~ ~ ~ ~ ~ ~ ~ ~ ~ ~ ~ ~ ~ ~ ~ ~ ~ ~ ~ ~ ~ ~ ~ ~ ~ ~ ~ ~ ~ ~ ~ ~ ~ ~ ~ ~ ~ ~ ~ ~

Wellington's giving me the look of "Is it snack time yet?"

I can announce to y'all that Brandywine has gained a pound and a half since we got her. She's still thin, but she's gaining! She'll still occasionally let the kittens nurse, but she doesn't put up with their nonsense for long. Isn't she a gorgeous girl? She's so long and slinky and you might think that she's dignified and graceful, but toss a ping pong ball for her, and you'll find out "dignified and graceful" really aren't in her wheelhouse.

Bathtime for Brandywine.

"Pardon me, Caspian, are you trying to steal my ping pong balls?"
"No, Mama."

"Don't make me bite you on your neck, Caspian, while that lady's taking pictures."
"No, Mama."

When Brandywine starts playing and gets excited, her tail gets all floofed out.

Just her tail. Nowhere else does she floof.

Caspian, slithering out from under that table to grab a golf ball.

Brandywine carrying one of those foil balls around, while Sungold slithers under the table.

Sungold, playing.
For the record, that "door" across the end of the hallway is so that the kittens are kept upstairs. With the door to the foster room open and that "door" across the end of the hall, they get the run of their room, my room, and the bathroom. Brandywine can jump up on the table and over the top of the "door" (which is really a half-door) to get to the rest of the house, and she can jump from the floor to the top of the half-door to get back in with the kittens. The kittens will be allowed the run of the house starting later today (just for a few hours at first, then with longer and longer periods of time.) I'm looking forward to seeing Jake's reaction to all those new-to-him kittens!
~ ~ ~ ~ ~ ~ ~ ~ ~ ~ ~ ~ ~ ~ ~ ~ ~ ~ ~ ~ ~ ~ ~ ~ ~ ~ ~ ~ ~ ~ ~ ~ ~ ~ ~ ~ ~ ~ ~ ~
Kerry mentioned in the comments last week that she'd like to hear more about Agata and Fianna. I know that I've been pretty focused on Stompers and have been kind of slack on the Agata and Fianna front, so I'm going to focus on Agata today, Fianna tomorrow, and Wednesday we'll give Kennebec some special attention!
Agata is the sweetest little lady. She's polite, she's well-mannered, and she loves a good belly rub. (Sometimes the good manners have to fall by the wayside, you understand, when her sister or brother needs to be pounced upon and bitten in the neck.)

She loves the Ham-mick (and Fred's sneaker).

She loves the scratcher bowl.
Fred has a wing back chair set up in the guest bedroom, and he sits in there with his laptop on a small table, and that's where he likes to write, so there's nothing (like me or the TV) to distract him. Agata loves to sit next to him in the chair and quietly keep him company while he's working. (Sometimes she has to get up and walk around on his laptop, but come on. Sometimes a girl needs some petting!)

She likes to give Looks of Annoyance.

I mentioned the love of belly rubs, right? Check out the pattern on her shaved belly. Kill me with the cute!

I know we've all noticed her beautiful eyes, but I hadn't noticed the ring of green around her pupils 'til now. How neat!

Hanging out on Miz Poo's bed.
She's a skinny girl, but loves her snack time and eats heartily (she's not picky, but chicken baby food is a particular favorite for her). She's got beautiful, soft, silky fur that's pure pleasure to touch – and she loves to be petted. She's got an instant-on purr, and she will purr and purr and purr as long as you pet her. (Why do I feel like I'm writing a singles ad for her? She likes pina coladas and getting caught in the rain!) She's a fantastic nap time companion, snuggly but not pushy about cuddling (she likes to sleep next to me, sometimes hooking her head over my arm). She gets along great with other cats, and has been picking "fights" with Jake recently (lucky for her, he's indulgent with the little ones).
Really, she is just the sweetest girl and I have no doubt that someone will fall in love with her in no time flat!
~ ~ ~ ~ ~ ~ ~ ~ ~ ~ ~ ~ ~ ~ ~ ~ ~ ~ ~ ~ ~ ~ ~ ~ ~ ~ ~ ~ ~ ~ ~ ~ ~ ~ ~ ~ ~ ~ ~ ~

Maxi and Rupert would like you to know that they do NOT like each other and just because they were napping next to each other on the side stoop doesn't mean that they don't hate each other with every fiber of their being. No, really. REALLY.

"Ceiling Cat and Basement Cat have very important meeting, lady. You go 'way. We not talking about how to con you out of more treats or anything like that. Important BUSINESS meeting."
~~~~~~~~~~~~~~~~~~~~~~~~~~~~~~~~~~~~~~~~~~~~~~~~~~
Previously
2011: You can deflect Het Rays from stumpy little gray cats with SCOOP HANDS!
2010: Bad news, good news, and a happy ending for two Challenger's House cats!
2009: No entry.
2008: Zoe makes this face a LOT.
2007: Now THAT is a signal I understand.
2006: No entry.
2005: No entry.